Aggressive Labz: Punisher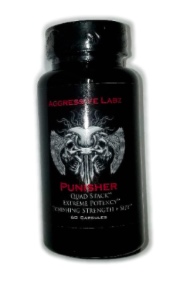 Aggressive Labz: Punisher
DESCRIPTION
Aggressive Labs Punisher is the ultimate quad stack!
Extremely potent
Punishing strength + size
DMZ, M-STEN, D-DROL, YK-11 STACK
If you are ready to experience:
Savage Aggression and Intensity in the GYM
Fuller, Denser, Harder Lean Muscle Tissue
Increased Strength and Performance
THEN IT'S TIME TO TRY PUNISHER!!
These statements have not been evaluated by the Food and Drug Administration. These products are not intended to diagnose, treat, cure or prevent any disease.